No Barriers
A look at one of our changemaking clients, ADVANCE Lake Tahoe Adult Education Consortium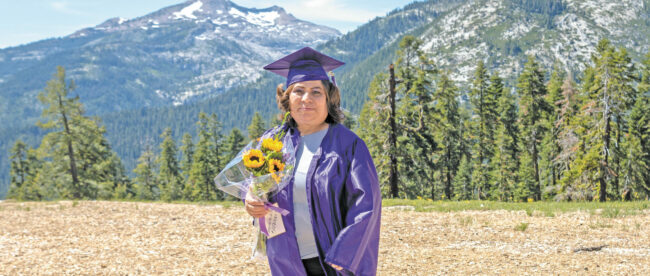 Great teachers, it is said, open pathways to success for their students.
But Hermelinda Aguirre has a different narrative.
She maintains the gateway to her dreams was opened by a brilliant transition navigator, Claudia Manzano, and the remarkable education consortium where she works.
Despite not having its own physical campus, ADVANCE has furthered the career goals of Tahoe Basin adults by delivering customized instruction through its various partners since 2016.
"Ms. Manzano has helped me so much," Aguirre, 54, of South Lake Tahoe, says recently. "She's always attentive to what I'm doing."
Aguirre, who has a physical disability limiting her mobility, and who likes being called Meli, described ADVANCE as a superb program "with nice personnel always ready to assist us."
She first met Manzano in mid-2018, when the latter succeeded Aguirre's original ADVANCE counselor, who had left the program.
"I met with Meli and she shared with me her career story," Manzano says, recalling how Aguirre enthusiastically explained her goal: to obtain an A.A. degree in Early Childhood Education, so she could teach foundational lessons to youngsters.
At the time, Aguirre was learning English at Lake Tahoe Community College in preparation for the five-part high school equivalency exam.    The problem: the nearest HSE testing sites were 60 miles away in Placerville and 30 miles away in Carson City.
Getting to either location multiple times—Aguirre would test on one subject a day—was challenging.
Aguirre had stopped driving after a 1998 stroke left her partially paralyzed.
Before tackling that problem, though, Aguirre had to bolster her writing and mathematics, not just her language skills, Manzano determined.
With input from teachers, Manzano developed a "pathway plan" for Aguirre to meet her goals, through a combination that included independent book work and college classes, some of which she attended virtually amid COVID protocols.
In 2020, Aguirre was ready for her test. By then, ADVANCE was an HSE testing site, meaning she took the HSE exam at LTCC, a 2-mile bus ride from her home.
ADVANCE helped make that happen and has helped her in countless other ways.
Aguirre received her high school diploma in June 2020. She will receive her A.A. in 2023, after completing ongoing LTCC classes.
"I have no doubt Meli will succeed," Manzano said. "She sees no barriers. She's a force to be reckoned with."
Read the full publication here.
Related: Where Learning Never Stops