Where Learning Never Stops
A look at one of our changemaking clients, Mt. SAC Regional Consortium for Adult Education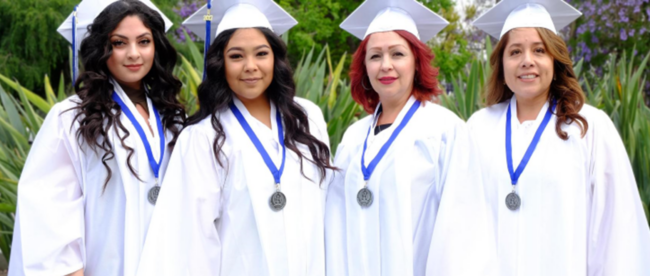 For Lourdes Melchor Suastegui, education is a journey. Once she decided to get her high school diploma, she wasn't going to stop.
"I am a mother of three boys, two of them are twins," explained Suastegui, who wants to be a good example to them.
"I do not want to fail as a mother," she said. "I can fail as a student, but not as a mother. So, they are my biggest motivation."
Suastegui faced other obstacles. English is her second language, and she lacked confidence. She started her studies in a community college ESL program, but quit in frustration. Then, she found Baldwin Park Adult and Community Education.
"The environment at Baldwin Park Adult Education is very welcoming," she said. "I never felt so comfortable and grateful for the opportunity I had and the wonderful assistance of all."
At BPACE, Suastegui enrolled in Adult Basic Education. Although she struggled with English, she persisted.
Mark Steimle, who has been teaching at BPACE since 1988, had high praise for Suastegui.
"Lourdes is one of the best students I have ever had in 30 years of teaching," Steimle said. "Her determination, hard work, dedication and perseverance really set her apart."
Suastegui tackled English along with her assignments.
"Lourdes just refused to be stopped," Steimle said. "She would sit in front of a computer with her book open, reading, taking notes, and not stopping over and over until she found the definition of the vocabulary words.
"She didn't see her growth but I did," he noted.    "Her growth was not just academic. When she started the high school program, she was timid and shy (because) she could not express herself properly.    (By the end), she was nominated as the Student Leadership Representative.    She did an excellent job representing my class and the school's interests."   
Suastegui credits the BPACE staff with helping her achieve her goals. "They made me feel very important," she said. "(They) raised my expectations to help me believe in myself and give me the confidence I needed to complete (her diploma)."
Suastegui didn't stop with one diploma. She earned BPACE scholarships to attend Citrus College, where she is close to finishing her Associate's Degree. Her goal now is to transfer to California State University, Fullerton, to earn a degree in Business Administration.
"I was always motivated to continue my classes," she said. "I remember wanting to quit at some points in my schooling because, as a mother, I had many responsibilities … (I'm also) a wife; my husband was demanding more time with me."
But her family could see how much she believed in her goals.
"I think, at the end of the day, my family realized that I was motivated and determined," she said. "We are a low-income family. I want to provide better opportunities to my children. My desire for my three sons is for them to attend and attain a college or a university degree."
Just like mom.
Read the full publication here.