Finding Your Way Home
A look at one of our changemaking clients, County of San Diego Office of Military & Veterans Affairs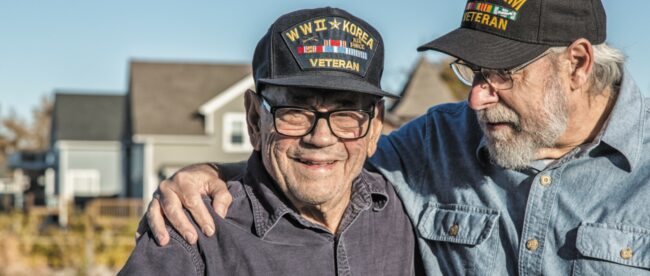 Veterans can face many obstacles when re-entering civilian life, but among the largest is finding affordable housing. Stable housing can lay the foundation for other transitional steps, such as seeking employment, establishing health care, exploring higher education opportunities and receiving disability benefits.
As Nicholas Martinez, Assistant Director of San Diego Housing and Community Development Services, puts it, "That's really the basis for a lot of things in a person's life, that safe place to call home."
HCDS helps veterans find their "safe place" in numerous ways. The largest is the Housing Choice Voucher and Section 8 Program. Qualified candidates receive a voucher that can be used at participating rental units within the area. These vouchers cover all rent above 30% of the renter's income.
Because waitlists can be long for participating units, and because veterans are often most at need, affordable housing has been designated to prioritize veterans. Through San Diego County's Innovative Trust Fund, $2.8 million has been provided to developers to build affordable housing.
"These properties provide preferences to serve up to 180 veterans and have on-site services for those veterans," Martinez explains.
In addition to financing new affordable housing, the county encourages landlords to make housing available to low-income renters through the Landlord Incentive Program. This program provides bonuses to participating landlords, as well as assurances in the form of damage claim reimbursement funds and security deposit assistance.
"It eliminates the barrier from the veteran's side, and encourages participation from the landlord's side," Martinez says.
Programs such as these have had a positive impact not just at the local level but on the national level. Between 2015 and 2019, veteran homelessness was reduced by 50%. But even with such improvements, veterans are still more likely to be homeless than the general population. It is important that veterans are aware of the rental assistance available to them.
To that end, Housing and Urban Development has partnered nationally with Veterans Affairs to create the HUD/VASH Program. This partnership combines the Housing Choice Voucher Program with case management through the VA. Case workers at VA medical centers and community-based outreach clinics can steer homeless veterans to affordable housing opportunities while addressing other transitional needs.
"It's all connected," Martinez says. "But if we're helping you with the rent, that means you don't have to worry about that part of the bills and can be successful in other areas of your life."
Read the full publication here.