Creating Pathways Out of Poverty
A look at one of our changemaking clients, Sequoias Adult Education Consortium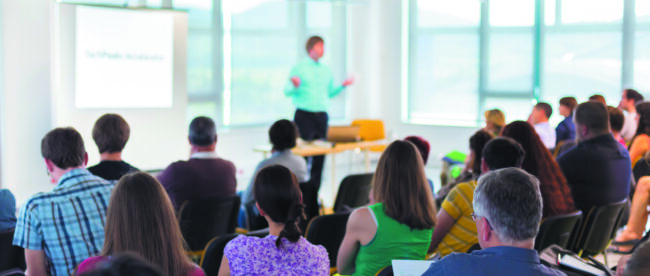 For more than a century, adult education has helped residents of Tulare and Kings counties learn the skills they need for better lives. As the region prepares for future growth and pivots after the COVID-19 pandemic, that educational resource may be more important than ever.

Improving adult school so it meets the needs of both adult learners and where they live is the goal of Sequoias Adult Education Consortium (SAEC).
"Our region is often described as the 'Appalachia of the West,'" explains Executive Director John Werner, who grew up on a local ranch. "Our region is predominantly rural and agricultural; that's primarily our economic base."

But it's not just the scenic hills and farm country that draws that Appalachia comparison; it's the region's widespread poverty.

"Our region has a large number of residents who have attained a low level of education and people living at or below poverty level," Werner says.
These residents also may see the greatest benefit of adult education. Designed to help those who are often overlooked, adult education can be a pathway to leaving poverty for a lifetime. Now, it may be more important than ever in helping people get back on their feet, get better jobs and careers, and support the California economy as our state bounces back from the pandemic.
"Adult education is a big deal," Werner says. "We understand everybody has a different path in life and different timelines. A good income can be had without a four-year college degree. Career or workforce technical training can prepare you to get a good-paying job and economic security."

Made up of 10 school districts and one community college, the Sequoias Adult Education Consortium was created in 2014 to build partnerships, bridges and pathways that benefit students, wherever they are and wherever they need to go. Its members include:
Alpaugh Unified School District
College of the Sequoias
Corcoran Joint Unified School District
Cutler-Orosi Joint Unified School District
Exeter Unified School District
Farmersville Unified School District
Hanford Joint Union High School District
Lindsay Unified School District
Tulare Joint Union High School District
Visalia Unified School District
Woodlake Unified School District.
"Among consortia, we're unique in two ways," says Werner. "First is our board structure; it's all superintendents of member districts and a college president. No other consortium has 100 percent voting membership that's all superintendents. It gives us a very high level of decision makers on our board. We have the right people in the room to get things done.

"The other way that we're unique is the level of cooperation," he adds. "We operate in a region where people like to work together towards common goals. That includes business leaders and community leaders. We've done well to think regionally; that's powerful."

That cooperative mindset helped SAEC members quickly and effectively make adjustments to pivot to meet students' needs during the pandemic. Classes moved online with the help of mobile hotspots and Wi-Fi devices. Digital literacy classes for parents helped them become better at-home educators, helping their own children during distance learning.

Now, SAEC members are ready to help adult learners get back to work by getting the education they need to succeed.